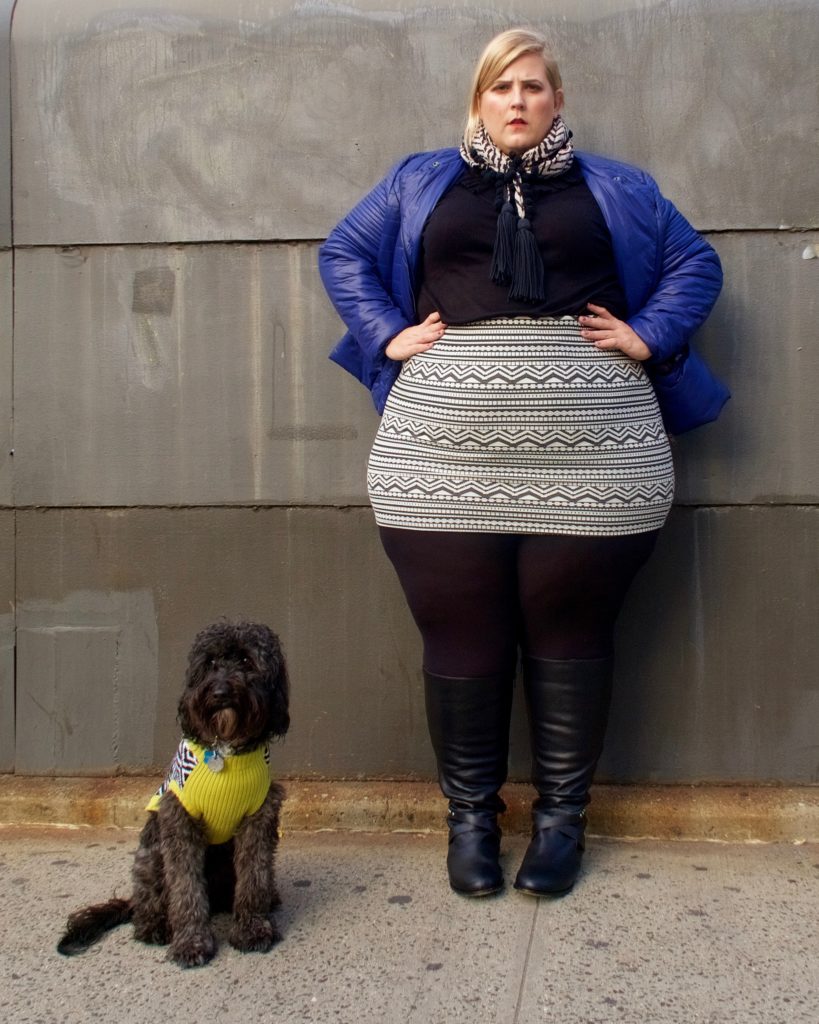 People tell me all the time things I shouldn't wear- often before I've tried it on. This patterned skirt is a great example of something many people warned me not to wear. It's light colored. It's vertical print. It's short. In some sort of plus size fashion rule book, that is stored in a very secret box, that only the pure in heart can access, whose words are now passed through our society through verbal storytelling by judgemental people, it says this. In any case, that book is very very old. It probably references bloomers. And cod pieces.  And chastity belts.  And Isn't it about time we got a rewrite?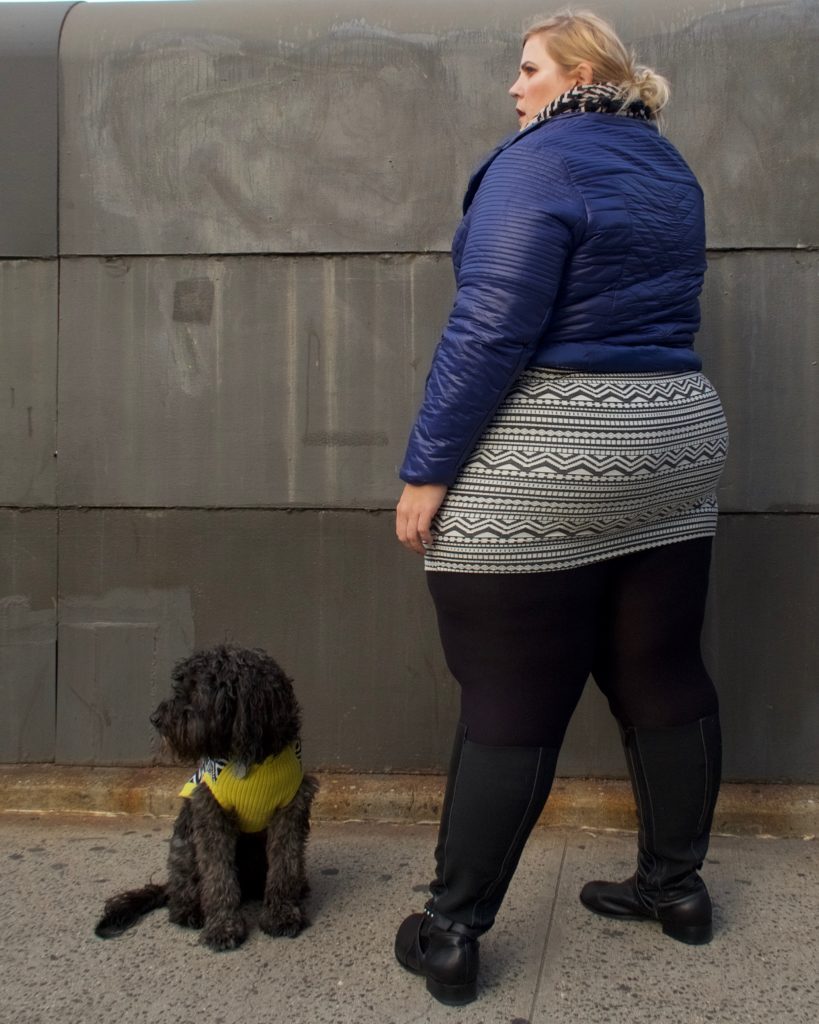 So, ancient rule book be damned! I bought the skirt anyways. Not to  be controversial. Not to make a statement. I bought it because it looked like a sweater I had purchased Data for the winter and I wanted us to match. It's funny because often times people think I wear things for the shock value, but most of the time its because of one of 3 things: I think its it's pretty, I can match my dog or it's outside my comfort zone and I want to challenge myself to make it work.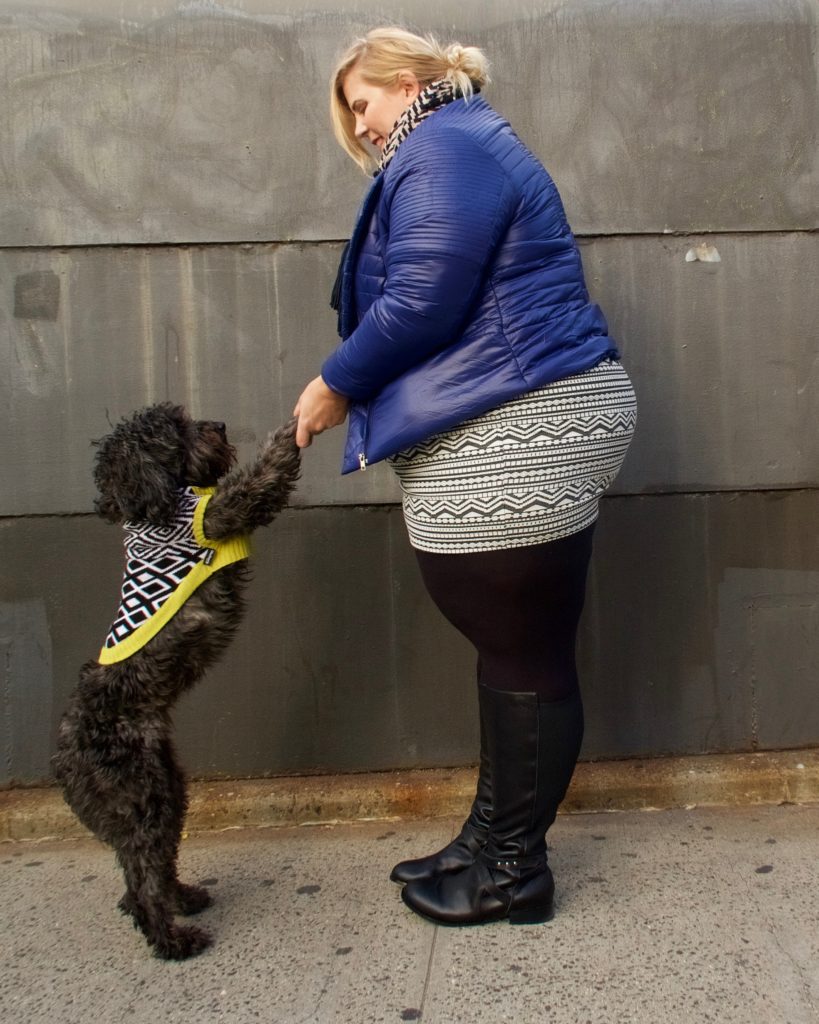 As a plus size women there's all this meaning put behind usually meaningless decisions. I need to wear clothes. I buy clothes I like. I wear those clothes. While usually I am wearing what I like and what spoke to me that day, the world sometimes interprets it into a grand statement.  I'm brave or bold. I've broken the antiquated rules. I went out of the house with something that actually shows the shape of my body .  In my heart of heart I can't wait until the day when my fashion sense is praised without the caveat that I'm plus or body positive or wearing something society says I shouldn't. How about just- " this girl is wearing a cool outfit." That would be nice. I'd like that.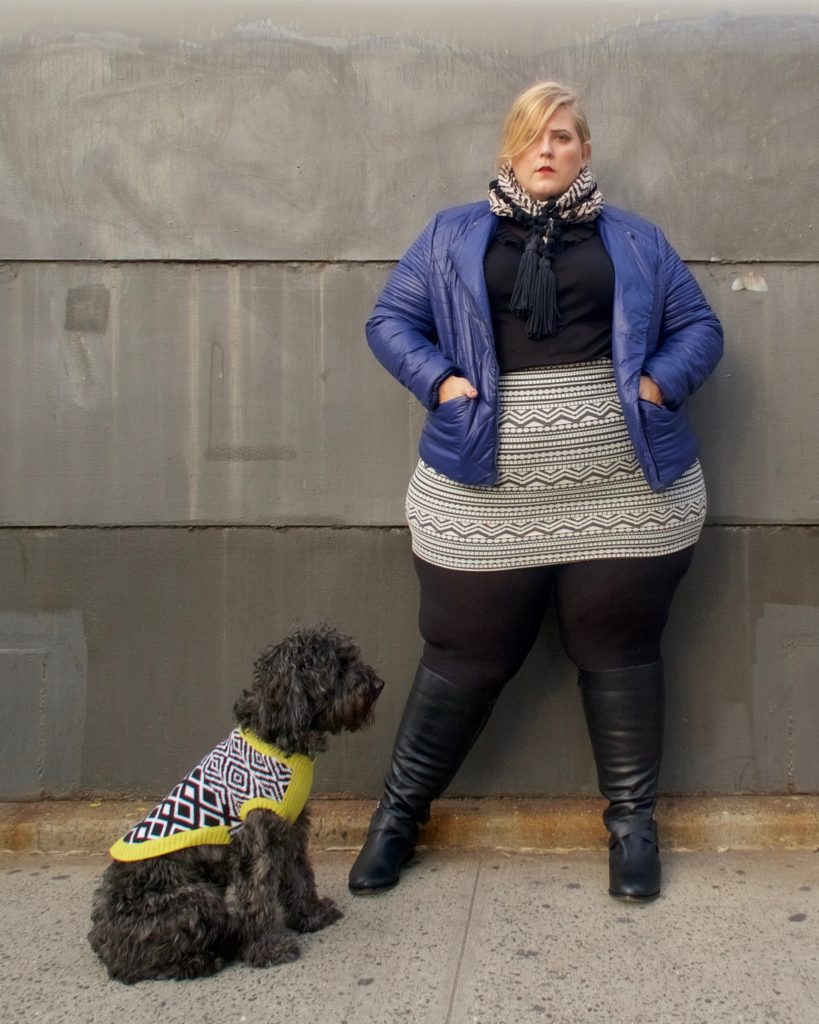 Today my be rule breaker look is composed of a Simply Be black sweater and royal blue fitted puffer I was gifted. They are worn with a New Look mini skirt I purchase in London, worn over Maurice's leggings and accented with a vintage scarf. I threw on the best leather wide calf boots ever from Torrid to complete the look.  Data is wearing a geometric sweater from Amazon.
Save
Share the love... and this post!