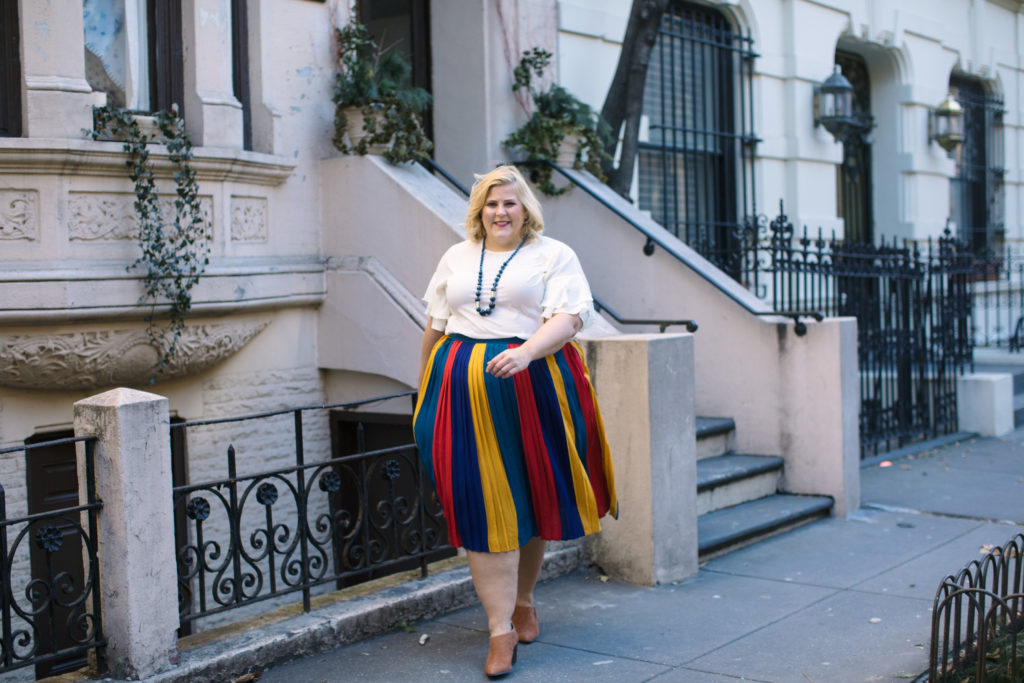 Today I am partnering with Modcloth to share how wearing color can change your life. People always comment on how colorful I dress. Take for example, this bold, striped and pleated skirt from Modcloth. Even paired with a more subdued cream blouse, it's still making a statement when I walk down the the street.  I wear bright colors like this because I actually believe bright clothing means bright days. Science agrees.  Recent studies have shown that looking at bright warm colors releases dopamine — known as the 'feel-good hormone." Increasing dopamine in our system can improve mood, increase our ability to focus and even boost our sex drive.  Cool tones, can cause us to release oxytocin, as result making us feel calmer and refreshed.
Wearing Color Allows Me To Be Seen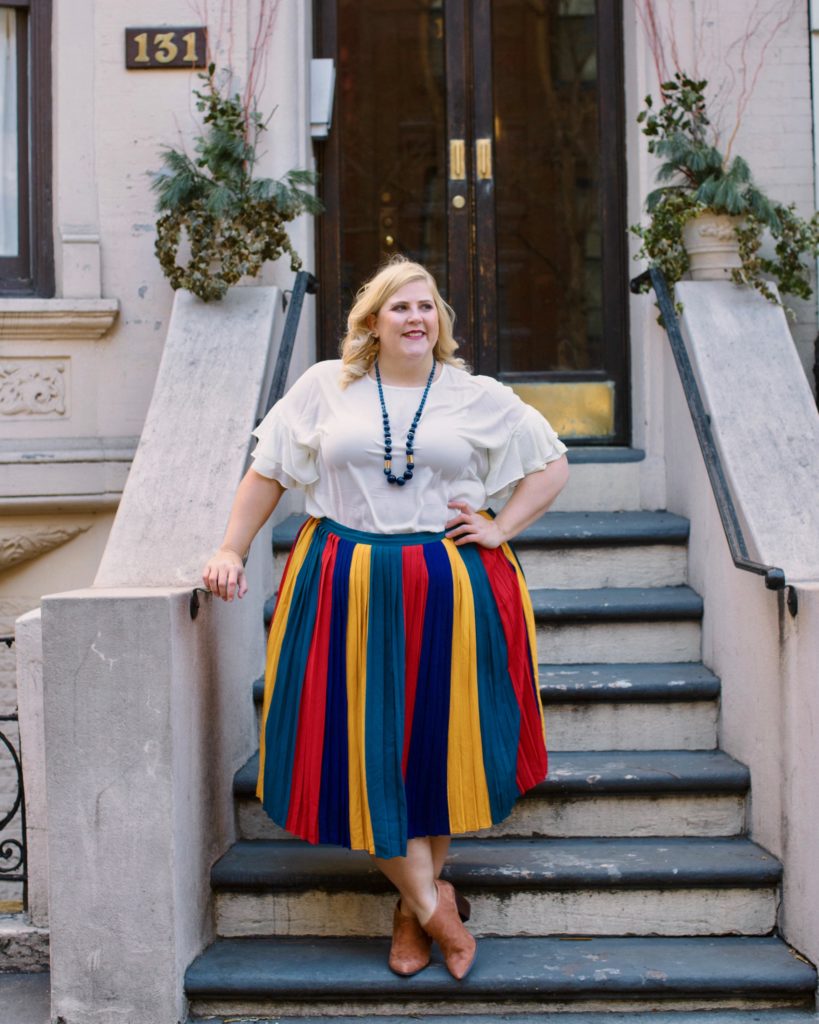 Personally, I wear color because it feels rebellious.  As a plus size woman, for years I've been told to hide- to avoid colors. "Dark clothing will slim your hips, darling." Barf. As a result, the options that were available to me to be bold and bright were limited in my youth. Now as the tides have turned and brands like Modcloth are making colorful options in my size- I can't help but indulge in all the hues.  Colorful clothing helps me make a statement about my worthiness to be visually acknowledged. It says I am not hiding anymore. I want to be seen.
Color Can Be A Motivator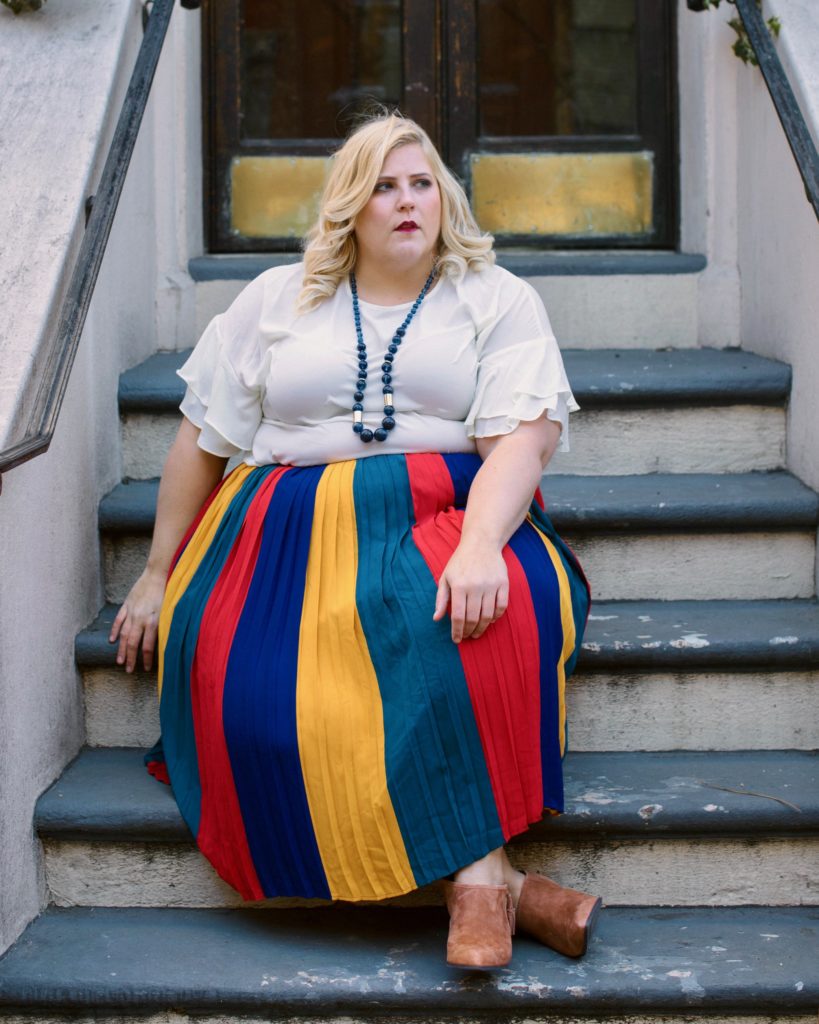 Wearing bright colors does more than give me empowered warm fuzzies. Color psychology is the scientific study of hues as a determinant of human behavior. It is shocking just how much color affects the decisions we make and opinions we form every day.  Take the colors in this skirt.  Reds can act as stimulants- giving you energy and a sense of power through out the day.  Yellows can give you sense of confidence- increasing your likeliness to self-perceive as competent and happy.  Blues carry an air of honesty and professionalism. That's a lot of good vibes packed in one little skirt.
The Basics of Color Theory
Below is a high-level guide to Color Theory or essentially what different colors can evoke in us. Note: Color Theory is a very complex subject and saturations, tones and pairings can change how colors are perceived. I would suggest reading this three part series on color theory for designers  for anyone really interested in learning more.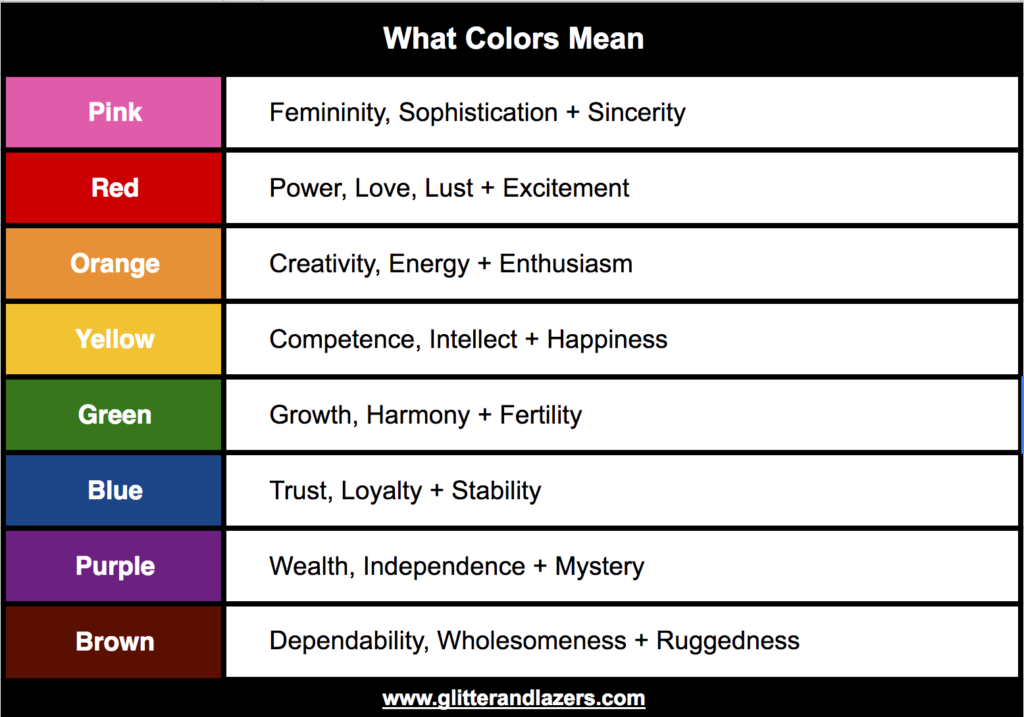 Add a Punch of Color to Your Look
Now that you know color can literally change your outlook each day, here are some ideas of how to add color to your day-to-day wardrobe. Clothing options are size inclusive (available from size xs to 4x) and are from Modcloth. Click the images to shop!
Thank you to Modcloth for sponsoring this post. I earn affiliate commisions off of some of the links included in this post.