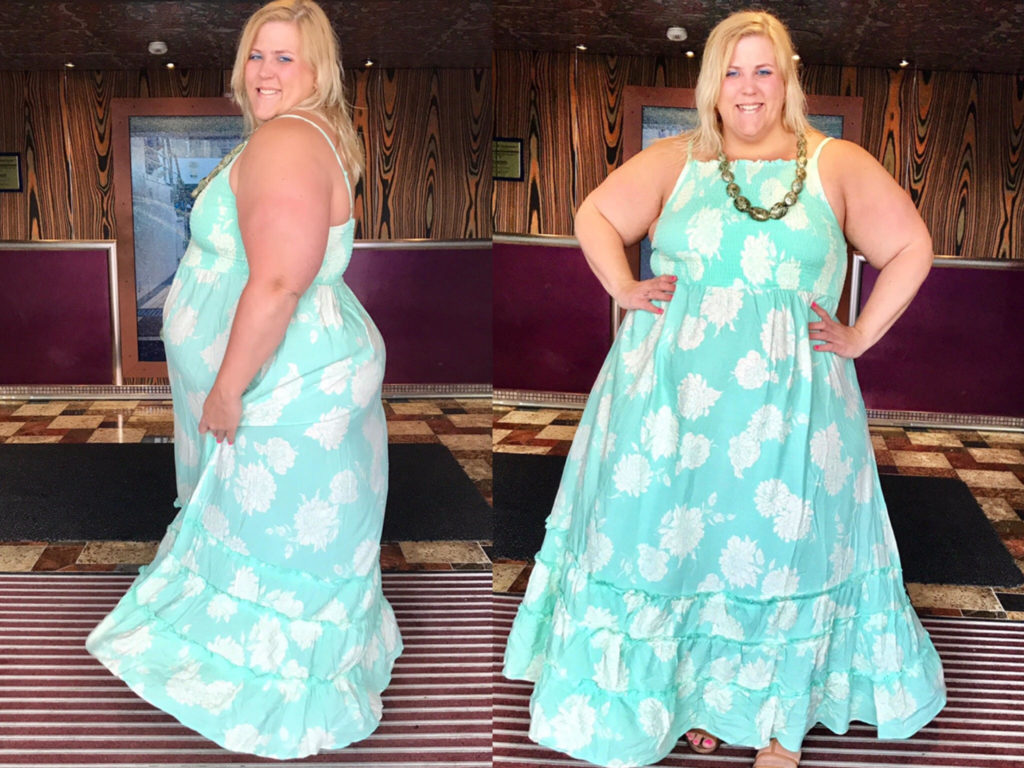 So you've heard how some girls can go boy crazy? Well, in preparing for my cruise I went maxi crazy. I'll level with you.  I love a reason to shop… and my little ocean trek seemed the perfect reason to update my education on long beach friendly frocks.I scoured page upon page of flowing fashion and in doing so I noticed some major commonalities. Since sharing is caring, I'm spilling all the things I learned about this season's sassiest maxi dress trends. It's time to take fashion… TO THE MAX.
Kimono Realness
This plus size maxi style is perfect for the lady who wants a more modest, but still sizzling look. The kimono sleeves add a fresh take to the maxi, keeping your look fresh and far from dowdy. This Eloquii Kimono Sleeve Maxi is a great example, made of soft jersey and available in multiple colors.
Bright + Bare Shouldered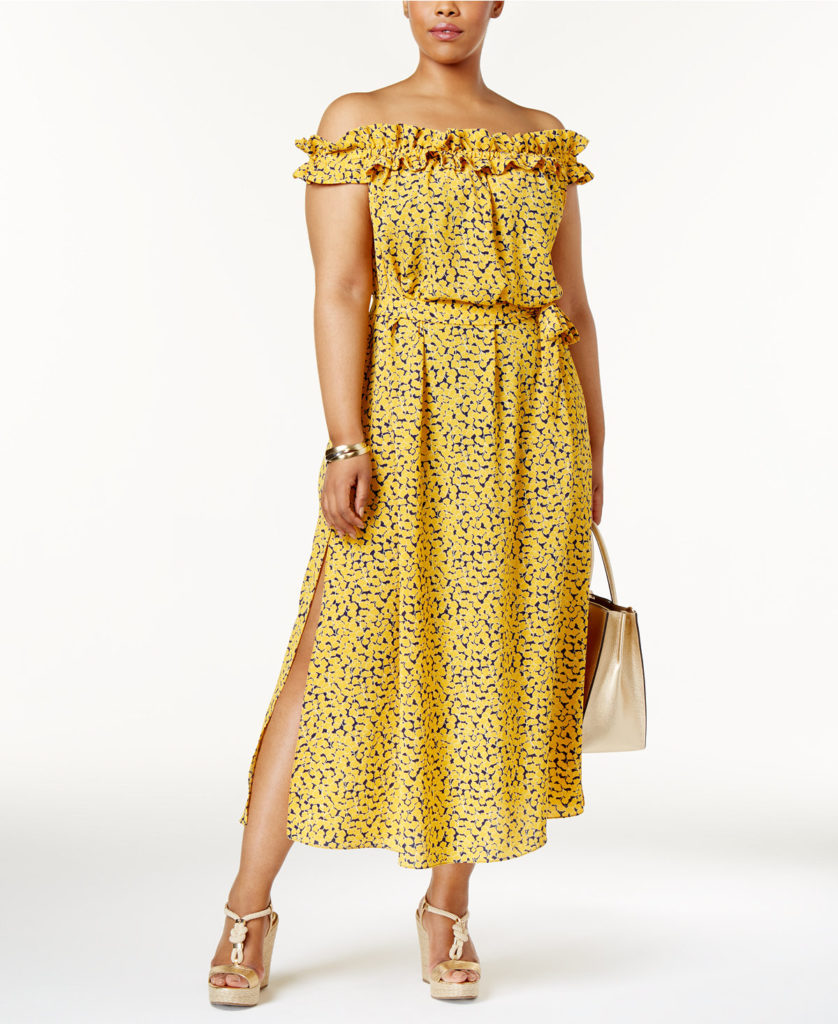 Bare shoulders and bold colors are continuing into the summer season. Choose a sassy print to create an even bigger statement, like this Michael Kors variation.  Off the shoulder flounces add coverage for those uncomfortable baring their arms, while still allowing your shoulders to get their tan on. This mellow yellow treat is available at Macy's.
Whimsical Pastels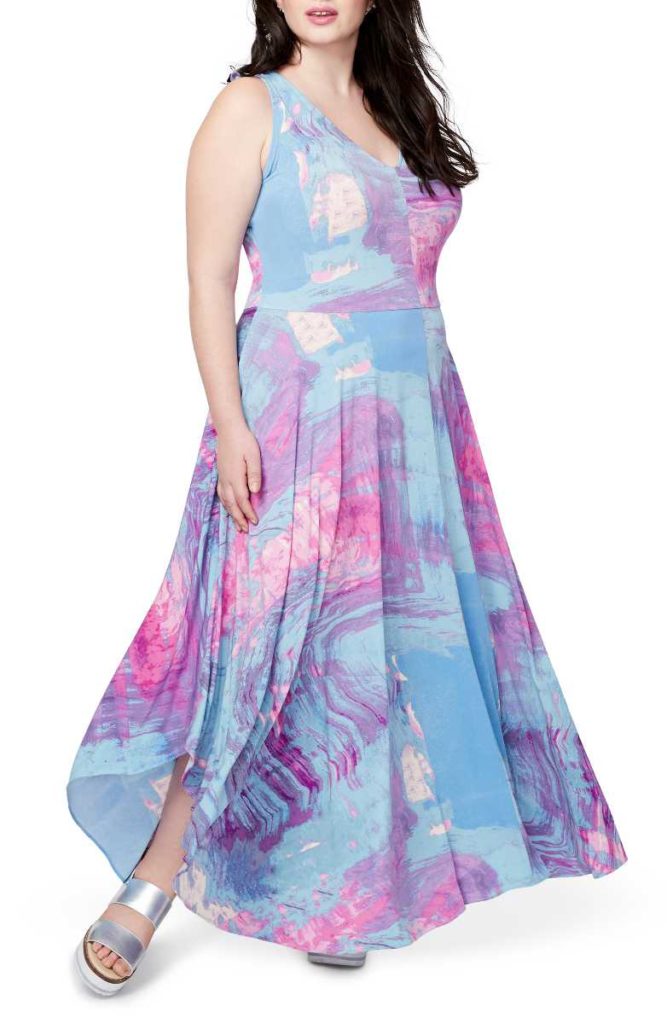 Pastels can often be perceived as overly cutesy, but this season I am seeing all sorts of numbers that feel  like Liza Frank grew up and started designing for adults.  These whimsical styles are perfect for that sassy lady that's not quite ready to give up her girly pastels, but also wants to feel grown up.  This Rachel Roy dress at Nordstrom, was fashion love at first sight.
Boho Babe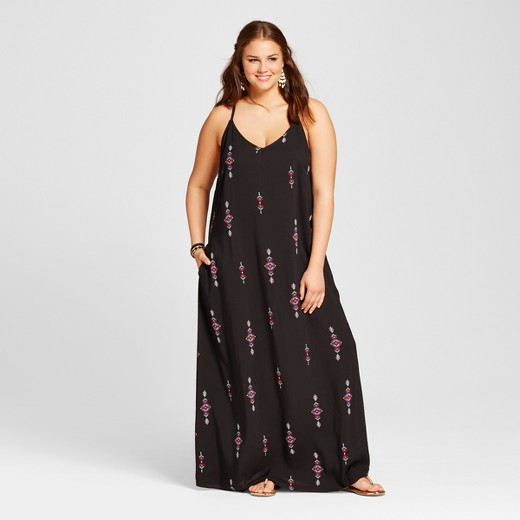 It wouldn't be summer with a little bohemian print in the mix. Look for all-over, colorful geometric prints that give the piece an earthy tribal feel. Tassel details and ties can add an extra punch while keeping the piece decidedly on trend. This plus size maxi from Target is every bohemian girls dream dress.
Scandinavian Floral
This summer's florals remind me of when I lived in Scandinavia. The same blossoms that detail these dresses would decorate towels, linens and even furniture! I love the earthy traditional feeling these styles evoke. Paired with a breezy fit, these dress scream multi-cultural vacation chill. This example comes from JCPenney.
Comfy Crochet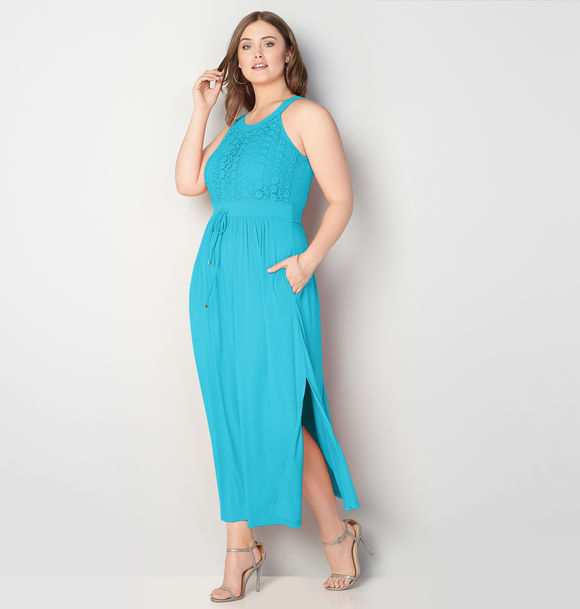 Simple dresses are getting a handicraft touch with the incorporation of crotchet. The crochet touches elevate the dress by adding pattern and  dimension to a basic silhouette. I love the simple yet casual elegance of this Avenue plus size maxi dress. The dress comes in three colors and I simply adore the peach shade.
Political Punch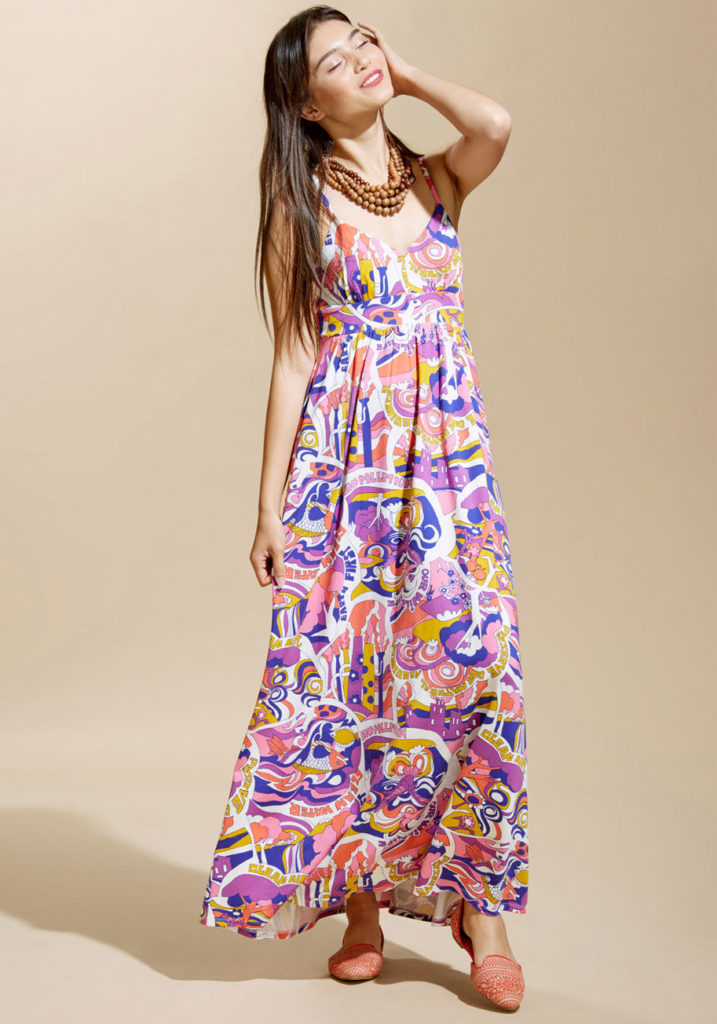 Some people wear their heart on their sleeve, others where their political calls to action on their dress. This season brands have combined pop art designs with political calls to action. It's a new way to make a fashion statement. I simply adore this plus size maxi from Modcloth for its ability to be as earth minded as it is tropically relevant.
Ruffled + Relaxed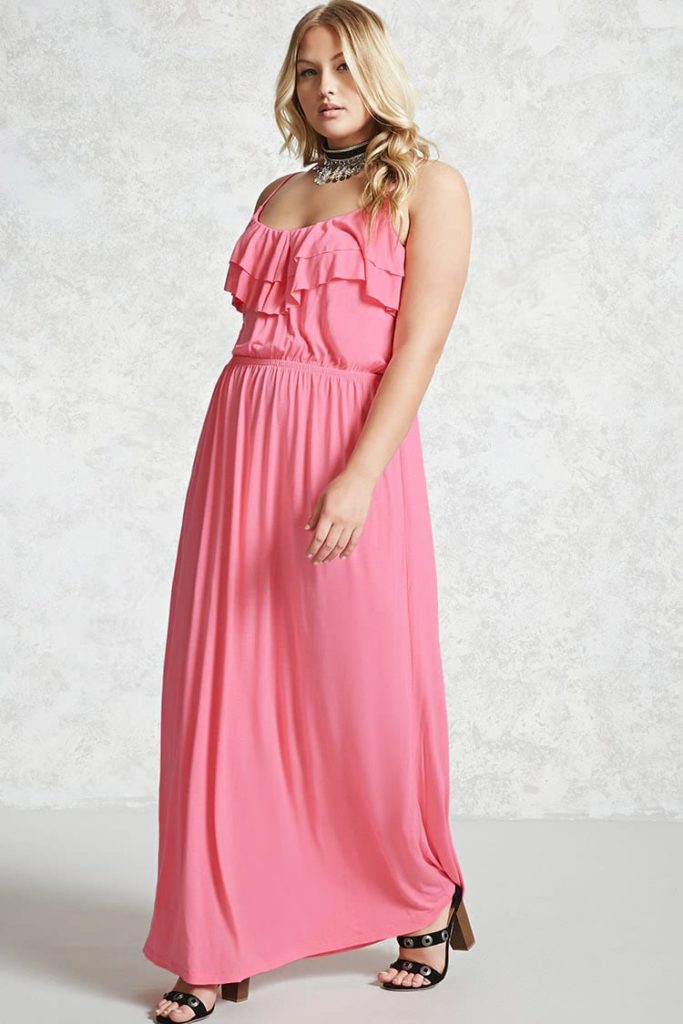 Get in touch with you girly side by adding a little ruffle to your maxi. Front ruffles add a breezy feel to the bust while the maxi style clings every so slightly to your hips. This style is especially great for pear shapes. Made of a soft jersey fabric and and priced at under $20, this Forever21 maxi dress is too good a steal to pass up.
To Tie Dye For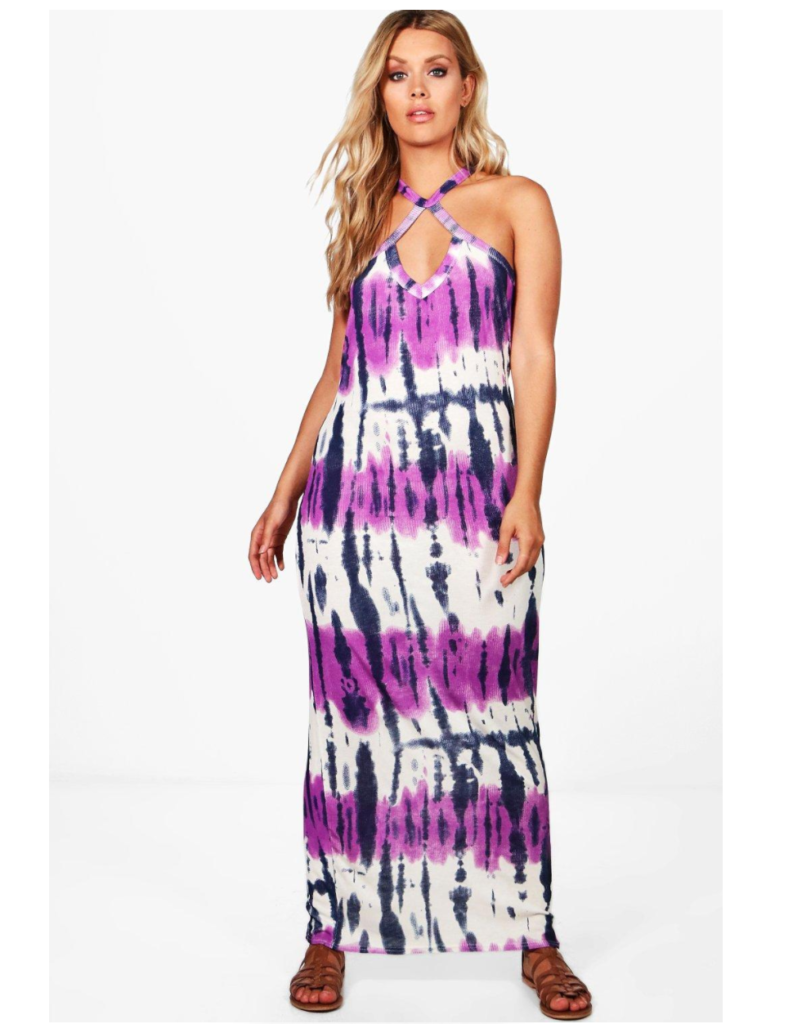 Tie Dye has come back with a vengeance this season. The typical blue variations can be seen popping up left and right. However, to truly rock this trend, look for an unusual neck line and a unique color combination. This will make sure the dress feels decidedly now, rather than just another a 70s style rehash. I like this bold maxi dress from BooHoo.
Striped Surprise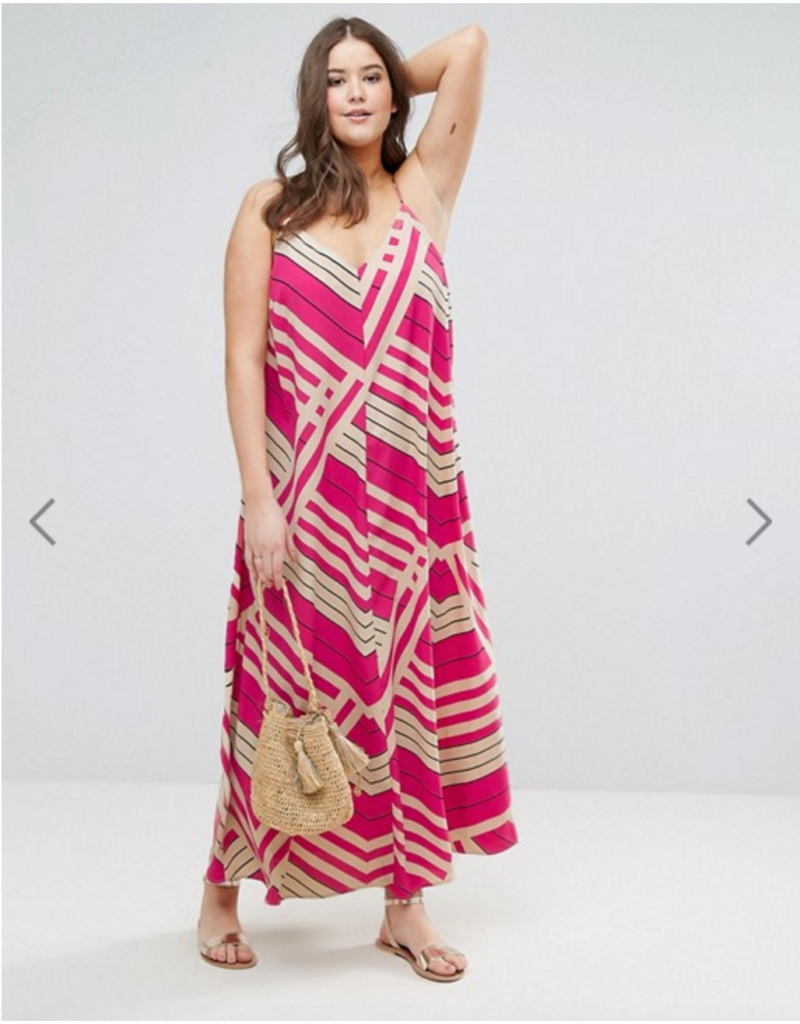 Stripes have been everywhere this season and even I have fallen victim to their rebellious charms. After years of being told, " no, no that's not for you," it seems like the plus community has raised a giant middle finger to the expected norms and begun creating amazing striped pieces. This stunning ASOS patchwork  striped maxi dress takes the trend one step further by piecing rosy stripes into a truly eye catching piece.
Sea Glass Goddess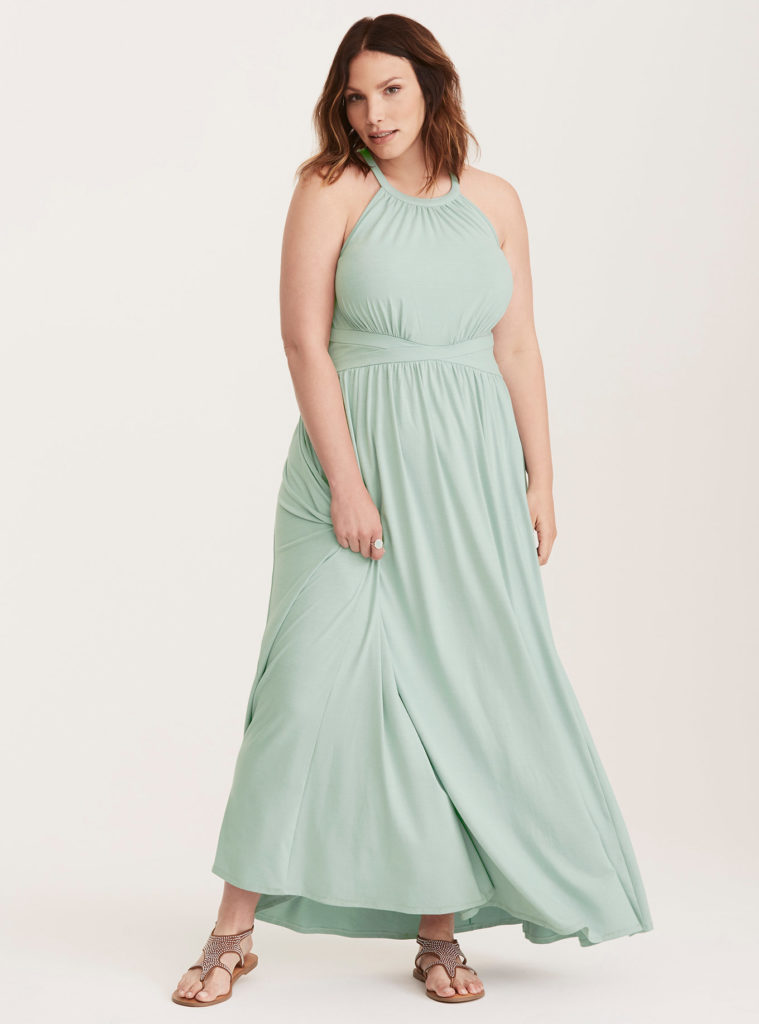 Lastly, there seems to be an infusion of washed out jewel tones. To me these dresses are like little reflections of water worn glass- stunning variations of their bright original colors. Washed out hues tend to scare most people because we don't see them as often. But fear not!  These colors have the magical ability to perfectly highlight tan skin. I like this example from Torrid; The simple neckline and accentuated waist line add structure and elegance to this beach glass beauty.
On some links I earn affiliate commissions that help support my blog. 
Save
Share the love... and this post!