I'm in Delaware celebrating the upcoming New Years in style- with my best friend, wearing matching purple sweatsuits, and watching Harry Potter. I decided to forgo an alcohol induced calorie influx, for a less intensive, yummy, delicious, baked-things calorie splurge. Plain and simple- I'll take a cupcake over a cocktail any day.
Sitting here chilled out I can't help but reflect on the past year; it's been an amazing gift. I've lost 70 lbs… but I've gained so much more. I gained the ability to breathe without difficulty, walk long distances, and do cardio like a pro. I gained the experience of being able to buckle my seat belt on an airplane, cross my legs like a lady, and wear smaller pants. I've gained insight into who I am and the choices I make, the strength to fight for what I want, and the foresight to recognize things that throw me off track. I've gained new friends who inspire me to keep going and have seen old friends stand behind me every step of the way. In 2012, I finally came into my own. I learned to love myself and how to use that love to push myself to be better. I am so incredibly grateful.
I know 2013 will be even more exciting. If it feels this good to lose 70 lbs, losing another 100 will be ridiculously incredible. However, in order for my journey to continue in such a marvelous way, I need goals people. So here they are in no particular order, my 2013 weight loss and healthy lifestyle resolutions.
Run a mile without stopping: Sometimes I have dreams where I am running. I wake up and my feet are itching to take off. However as soon as I try, I am exhausted within a minute. The last time I remember running a mile was in 3rd grade. in 2013 this changes, I will run that mile again. Hopefully, more.
Lose 100 pounds ( that means 170 total!): In under 7 months I have lost 70 pounds. For next year, factoring in that my weight loss will eventually slow down, I plan to lose on average 8 lbs a month. 100 total. A hefty goal, but I'm up for it!
Taking the time to take care of myself: Losing weight is awesome, but there is so much more to living a happy, healthy life. This year I plan to do many of the other things that could improve my day to day life, if I only I made time for them. Things such as getting a physical, seeing a nutritionist, and enjoying a massage once and awhile are activities I just don't do. I make excuses, but committing to doing these things in 2013 will make achieving all my other goals just a little bit easier.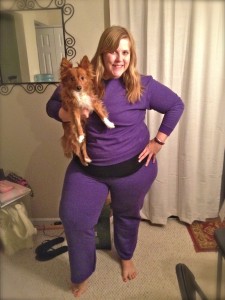 Sure there are plenty of other things I want to have happen in 2013. I'd love to rope me a man or win the lottery, but I feel those are the special things you can't really plan for. So I'll be open to them if they come knocking, but this year I am planning on being realistic. Well as realistic as a girl wearing a purple sweatsuit and holding a tiny dog can be. I have dreamers DNA, and I'll keep on believing in the impossible, but I'm setting goals I know I can keep… no matter what happens. You all should be grateful I am not making a resolution to be a unicorn.
Cheers to a wonderful, healthy and happy 2013. If 2012 was shining, 2013 will sparkle the hell out of this place.